Bekka Bramlett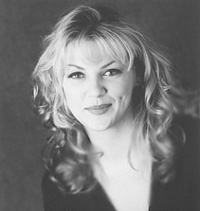 Rebekka Ruth Lazone "Bekka" Bramlett (born April 19, 1968) is a singer from the United States who was briefly part of the band Fleetwood Mac in the mid 1990s. Her only album as part of Fleetwood Mac was Time in 1995.
Since her departure from the band she has become an in-demand session singer and backing vocalist, working with a large number of artists, particularly Faith Hill.
Her parents are popular '70s music duo Delaney and Bonnie.
She has sung backing vocals for the bands Warrant and Faster Pussycat.
She and Mick Fleetwood also played together in the band The Zoo. She is currently a member of Vince Gill's touring band as a featured backing singer. She was also the inspiration for the Warrant song "32 Pennies".
Bramlett appears on a former labelmate of her parents' 2006 album, Overnight Sensational by Sam Moore, singing the only actual duet with Moore on "Don't Play That Song (You Lied)" and backing vocals on "I Can't Stand The Rain".