Bob Welch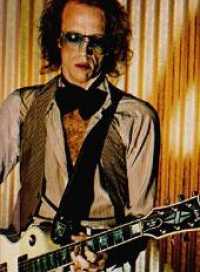 Bob Welch (born July 31, 1946 in Los Angeles, California) is a former member of Fleetwood Mac, who had a briefly successful solo career in the late 1970s. His singles included "Hot Love, Cold World," "Ebony Eyes," "Precious Love," and "Sentimental Lady." "Danchiva" is a club favorite.

Welch was born into a show business family. His father, Robert Welch, was a producer on many hit films for Paramount Pictures in the 1940s and 1950s. His mother, Templeton, had been a singer and actress who worked with Orson Welles' Mercury Theatre in Chicago, Illinois. As a youngster, Welch learned clarinet, switching to guitar in his early teens. He developed an interest in jazz, rhythm and blues and rock music. In the late 1960s, he moved to Paris in order to attend the Sorbonne, but soon dropped out so he could pursue music full time.

Welch struggled with a variety of marginal bands until 1971, when he was invited to join Fleetwood Mac, then an erstwhile English blues band that had lost two of its three frontline members, Peter Green and Jeremy Spencer, within a few months. Along with fellow newcomer Christine McVie, Bob helped to steer the band in a more melodic direction, as heard on 1971's Future Games. He wrote songs for and played on several Fleetwood Mac albums, including Bare Trees (1972) and Mystery To Me (1973) and Heroes are Hard to Find (1974).

These Welch-era Fleetwood Mac albums sold moderately well, though Bare Trees included the first recorded version of Welch's song "Sentimental Lady," and Mystery to Me featured the Welch composition "Hypnotized", both of which received some radio airplay. In December 1974, Welch departed the band, citing exhaustion.

In 1975, Welch formed the short-lived hard rock power trio with Jethro Tull bassist Glenn Cornick and Todd Rundgren's Runt drummer Hunt Sales, called Paris, which released two albums, Paris and Big Towne 2061.

Mick Fleetwood credited Welch with keeping Fleetwood Mac afloat during some lean years. Welch was not included when Fleetwood Mac were inducted into the Rock and Roll Hall of Fame in 1998.

In September 1977, Welch released his first solo album, French Kiss, a mainstream pop collection featuring contributions from former band mates Mick Fleetwood and Christine McVie. This release brought Welch his greatest success, selling two million copies and yielding three hit singles: a revamped version of "Sentimental Lady," the rocker "Ebony Eyes" and "Hot Love, Cold World."

Welch followed up French Kiss with 1979's Three Hearts, an album that replicated the rock/disco fusion of French Kiss. Another million-seller, it spawned the top 20 hit "Precious Love," while the follow-up single "Church" also charted. Welch released solo albums into the early 1980s (The Other One, Man Overboard, Bob Welch, and Eye Contact) with decreasing success, during which time he also developed a heroin addiction.[1] After cleaning himself up in 1986, Welch turned away from performing and recording and focused his attention on songwriting for others. In the early 1990s, he moved to Phoenix, Arizona, where he put together a short-lived group called Avenue M, which backed him on tour and recorded one song for a greatest hits compilation.

In 1999, Welch released an experimental jazz/loop based album, Bob Welch Looks At Bop. He followed this up in 2003, with His Fleetwood Mac Years and Beyond, which contained new recordings of songs he originally recorded with Fleetwood Mac, as well as some solo hits. In 2006, he released His Fleetwood Mac Years and Beyond 2, which mixed a half-dozen new compositions, along with a similar number of his Mac/solo remakes.