Dave Mason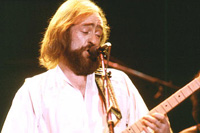 David Thomas Mason (born 10 May 1944) is an English musician, singer, songwriter, and guitarist from Worcester, who first found fame with the rock band Traffic. In his long career, Mason has played and recorded with many of the era's most notable musicians, including Jimi Hendrix, The Rolling Stones, Eric Clapton, George Harrison, and Mama Cass Elliot. Mason's best known song is "Feelin' Alright", recorded by Traffic in 1968 and covered by dozens of artists, including Joe Cocker, who had a major hit with the song in 1969. For Traffic, he also wrote "Hole in my Shoe", a kind of psychedelic satire that became a classic in its own right. "We Just Disagree", Mason's 1977 solo hit written by Jim Krueger, has become a staple of Oldies and Adult Contemporary radio playlists.

Mason's tenure with Traffic was disjointed. He co-founded the group, but left following the recording of their debut album, Mr. Fantasy (1967), only to rejoin halfway through the sessions for their next album, Traffic (1968), after which the band broke up. Last Exit (1969), a compilation of odds and ends, features little material by Mason apart from his song "Just For You." Traffic would later reform without Mason, although he briefly toured with the band in 1971 as captured on Welcome to the Canteen.

Mason was a good friend of legendary guitarist Jimi Hendrix, whose career was launched in England in 1967. Hendrix first heard the song "All Along the Watchtower", by Bob Dylan, at a party he was invited to by Mason, and promptly decided to record his own version. That night he recorded the song at Olympic Studios, South West London, with Mason playing acoustic guitar. It was released on the Electric Ladyland album in September 1968. When the song came out as a single in October, it hit #5 on the UK Singles Chart and was a Top 40 in the U.S. Mason later recorded his own version of the song on his self-titled 1974 album, Dave Mason.

Mason appears on the Rolling Stones' 1968 album Beggars Banquet, although uncredited. Mason's connection was Jimmy Miller. Miller served as producer for the Stones and Traffic. In 1969–1970, Mason toured with Delaney and Bonnie and Friends along with Eric Clapton and George Harrison. Mason appears on George Harrison's 1970 solo set All Things Must Pass. In 1970, Dave was slated to be the second guitarist for Derek and the Dominos, but left the group before they entered the studio.

After Traffic, Mason pursued a moderately successful solo career. His first single Little Woman had Family backing him, following his production of Family's first album. His song writing and sound cumulating on this 1970 album Alone Together with backing of drummer Jim Gordon. In the mid-late 1970s, he toured and recorded with guitarist Jim Kreuger, keyboardist Mike Finnigan, bassist Gerald Johnson and drummer Rick Jaeger. The 1976 album, Certified Live is a display of Mason's songwriting, arranging, vocal and guitar talents. In 1977, Mason had his biggest hit with "We Just Disagree", written by Jim Krueger. Reaching #12 on the Billboard Hot 100, it was later successfully covered by country singer Billy Dean. Mason's 1980 single, "Save Me", was notable for featuring a duet with Michael Jackson.

For a brief period in the 1990s, Mason joined Fleetwood Mac and released the album Time with them in 1995.

In 2002, he released the DVD, Live At Sunrise (Dave Mason). It featured a live performance at the Sunrise Theater in southeast Florida, backed by Bobby Scumaci on keyboards; Johnne Sambataro on rhythm guitar (who rejoined Mason for the DVD, after previously touring with him in 1978); Richard Campbell on bass and Greg Babcock on drums.

At one time, Mason lived in the Ojai Valley in California. As of 2005, he is currently performing about 100 shows a year with the Dave Mason Band across the U.S. and Canada.

Mason is a proponent of music education for children. In 2005, he signed on as an official supporter of Little Kids Rock, a non-profit organization that provides free musical instruments and lessons to children in public schools throughout the U.S. He sits on the organization's board of directors as an honorary member.