Dave Walker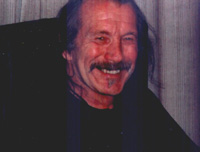 David Walker was born on January 25, 1945 in Walsall, Staffordshire, England. He shortened his name to Dave Walker before starting his career. He became part of several bands, notably Savoy Brown and Fleetwood Mac.

Walker was raised by his strict grandmother in a household where rock and roll was not allowed to be watched on television. His first experience with public singing came at a very young age at a Methodist church, where Dave volunteered to sing 'Away in a Manger'. As teens, Dave and his brother Mick would form a "backyard" skiffle group playing the odd wedding and youth gathering.

Dave started his career in the early 1960s with a Brumbeat R & B band called The Redcaps. He first joined the band playing rhythm guitar, and later took over the spot of lead vocalist after Ronnie Brown "King" left. The band included Roy Brown and Mick Blythe on guitars, Alan Morley on drums, Mike Walker on bass and Mac Broadhurst on saxophone. They travelled down to London to record three singles for Decca Records. Decca Records were trying to cash in on the success of The Beatles, since The Redcaps had actually opened for The Beatles in concert on four separate occasions.

Their first single was a cover of the pulsating Isley Brothers nugget "Shout" backed with an original tune written by Walker with Roy Brown called "Little Things You Do" in 1963. This was followed by their cover of Chuck Berry's "Talking About You" backed with "Come On Girl", and then an original tune penned by Blythe called "Funny Things" backed with "Mighty Fine Girl", both in 1964.

It's often been rumoured that guitarist Jimmy Page of Led Zeppelin fame played on the "Talking About You" track in his early pre-Yardbirds London session days. However, he does not play on this track as Dave has said since, when asked directly about it, and that the story behind this was that Page was available that day if needed for the leads but Redcaps guitarist Roy Brown handled the lead parts himself. As it turned out, this track ended up being recorded in a different studio from where Page was located the day of recording this track anyway.

However, pop sensation Lulu had beaten The Redcaps to the British charts with her version of "Shout" and as a result, The Redcaps disbanded after the above-mentioned remaining two singles had not succeeded.

Between 1965 and 1969 Dave was involved with a band called Beckett which also included Pete Oliver, Don McGinty and Colin Timmons, but they never recorded a single. Beckett played three days a week at the Rum Runner nightclub - the same nightclub where Duran Duran played their first gig.

In the beginning of 1970, Jeff Lynne of Electric Light Orchestra fame had left his original brainchild band at the time called Idle Race, which had built up a substantial local cult following in the Birmingham area, yet the rest of Idle Race wanted to carry on after his exit.

Although the other members of Idle Race could not find a band member in the league of Lynne, Walker had replaced Lynne on lead vocals and Lynne was replaced on guitar by Mike Hopkins. The rest of the lineup was Roger Spencer on drums, Dave Pritchard on rhythm guitar and Greg Masters on bass.

This new lineup of Idle Race recorded 2 singles for Liberty Records. In 1970, they produced a cover of Mungo Jerry's skiffle hit "In The Summertime", reaching number one in Argentina backed with an Idle Race original called "Told You Twice". Their second single was a cover of 10CC's "Neanderthal Man" backed with another Idle Race original number called "Victim Of Circumstance".

Idle Race also recorded an album for Regal Zonophone called Time Is in 1970, however Dave was incorrectly credited as "Richie Walker". Dave wrote two tracks ("I Will See You" and "And The Rain") and co-wrote two others ("Alcatraz" & "We Want It All") from this album. Unfortunately, the album was not a commercial success and by the beginning of 1971, Idle Race had folded.

At this time, guitarist Kim Simmonds, leader of blues rock boogie band Savoy Brown, had just lost the rest of his band - guitarist Dave Peverett, drummer Roger Earl and bassist Tony Stevens as they had gone off to form Foghat with ex-Black Cat Bones guitarist Rod Price - but as luck would have it for Kim, Dave Bidwell (drums), Paul Raymond (keyboards/guitars-later of UFO & MSG), and Andy Silvester (bass) had just left guitarist Stan "The Man" Webb and his band Chicken Shack. These additions, and the recruitment of Dave Walker on vocals, became the most commercially successful lineup of Savoy Brown to date.

They had recorded the Street Corner Talking album in 1971 with Parrot/Deram Records, which had included one of Savoy Brown's biggest hits in "Tell Mama", written by Raymond, and they had headlined a tour over Rod Stewart and The Grease Band in early 1971 as persistent touring was beginning to pay off for the Savoys.

The next album, Hellbound Train (again on Parrot/Deram), was their biggest-selling album to date, reaching the top 40 in the US while the title cut became a concert favorite.

Ex-Blodwyn Pig/Juicy Lucy bass man Andy Pyle had replaced Silvester in the bass stool for the next album Lion's Share (on which Walker had written "Denim Demon" and Parrot/Deram had released this album in the autumn of 1972). Savoy Brown had been previewing Lion's Share tracks to the summer crowds on their extensive tours in 1972.

Before the Autumn tour started in 1972, Walker quit Savoy Brown to join Fleetwood Mac.

Dave and the other members struggled through the making of the Penguin album (1973, Reprise Records) with Dave really only appearing on two tracks, his self-penned "The Derelict" (which was still apparently unfinished on release according to some reports) and a cover of Jr. Walker & the All Stars' Motown classic "(I'm A) Roadrunner".

The subsequent tour seemed to go well though, and Penguin was the highest charting Fleetwood Mac album in the US at the time, clawing its way into the top 50. However, during the recording of their next album, Mystery To Me, it was mutually agreed upon that Dave Walker "did not fit in" with Fleetwood Mac and by June of 1973 he left.

If anything was recorded by Walker for Mystery To Me it was not used and remains unreleased; therefore there is no Walker involvement on the resulting Mystery To Me Fleetwood Mac album. Fleetwood Mac soon fell apart during a US tour.

In 1974 Dave got together again with drummer Dave Bidwell and bassist Andy Silvester, with ex-Fleetwood Mac guitarist Danny Kirwan, and they formed a unit they called Hungry Fighter. (Kirwan had been fired from Fleetwood Mac himself in August 1972 and Dave Walker had "replaced" him on vocals while Bob Weston had replaced Kirwan on guitar, much like the Jeff Lynne/Idle Race replacement situation.)

However, they had only managed to play one live gig which took place at the University of Surrey in Guildford, England (which was not recorded) before fizzling out.

Dave then moved to San Francisco and had joined Raven (a band which in its short life had a revolving door of personnel but was fronted throughout its time by the late ex-Quicksilver Messenger Service guitarist John Cipollina), but most accounts suggest that Dave had never recorded with Raven due to legal difficulties the band was having. It is known though that he did do some live shows with Raven. (It was apparently due to these legal problems that they could not finish a record deal they were working on and the album Raven had recorded, without Walker, in 1976 was put on the shelf but did eventually get released after the band split in 1980, titled John Cipollina's Raven.)

With some ex-Raven members, Walker joined forces with a new "revolving door" crew who called themselves Mistress.

However, they encountered legal difficulties as well, though Walker did demo a song he had co-written for the project called "High On the Ride" which did end up on the album, though it is debatable as to whether the rest of Mistress used any Walker backing vocal takes from the demo sessions on the finished product or not. If they were used (once again, presumably for the legal reasons), it was an uncredited performance; the album did conjure up a minor hit though with the ballad "Mistrusted Love" scraping into the US top 50 singles chart. Legal difficulties caused the self-titled record that was recorded by Mistress (again without Walker) in 1977 to be shelved, but it was then released in 1979 by RSO Records, nearly two years after Mistress broke up.

It was at this point that Birmingham native Tony Iommi had remembered Walker from the old Birmingham days and contacted Walker in San Francisco, asking him to come out and join Black Sabbath (as singer Ozzy Osbourne had just left the band).

On the flight from San Francisco to London in November 1977, and for the next three weeks, Walker had written lyrics to the new music which the remaining members of Black Sabbath (guitarist Tony Iommi, bassist Terry 'Geezer' Butler and drummer Bill Ward) had put together for their next album. No vocals had been recorded with Walker. However, the new line-up appeared on the BBC Midlands TV program called "Look hear" on January 6, 1978, performing the hit "War Pigs" plus an early version of what would eventually become "Junior's Eyes".

Shortly after this appearance, Osbourne decided to rejoin Black Sabbath, so Dave Walker was out before he had a chance to record any albums with the band. None of Walker's lyrics were used for Black Sabbath's resulting Never Say Die! album, as Osbourne would not sing the material written during his time out of the band. Geezer Butler thus resumed his traditional job as Black Sabbath's primary lyricist, and completely new lyrics for the album were written, including what became "Junior's Eyes". Oddly enough, after the tour for the album, Osbourne was asked to leave the band anyway in 1979, and was replaced by Ronnie James Dio.

After his exit from Black Sabbath in January 1978, Dave Walker was idle for 8 years and had more or less left the music business, except for 3 more albums with Savoy Brown beginning in 1986, eventually settling in Gallup, New Mexico from 1987-1998.

After being out of the music business for 8 years, in 1986, Kim Simmonds had persuaded Dave to rejoin his revamped Savoy Brown lineup, which also included Al Macomber on drums and Jim Dagnesi on bass.

In 1987 they recorded the Make Me Sweat album released in early 1988 on GNP Crescendo Records, followed in April 1989 by the Kings Of Boogie album (also released on GNP Crescendo).

Macomber was replaced by Pete Mendillo on drums, Lou Kaplan had replaced Dagnesi on bass and Rick Jewett had augmented the lineup on keyboards for the tour that promoted Kings Of Boogie, and in November 1990 a live album from this tour was released (again by GNP Crescendo) called Live And Kickin'.

In 1985 on vinyl (and then in 1989 on CD), a live recording surfaced (legally) of a Savoy Brown show from New York in the summer of 1972, which included Walker, called Live in Central Park (on Relix Records). In the summer of 2000 a (legal) CD was released in the UK by Mooncrest Records called Jack the Toad Live '70/'72, which were from Kim Simmonds' personal collection of live Savoy Brown recordings.

Oddly enough, they were all from the same venue (The Colosseum in Edmonton, Alberta, Canada) but on different dates: one track was from a show in November 1970 before Dave Walker was in Savoy Brown, seven tracks were from an October 1972 show which took place after Walker had left Savoy Brown (in favor of Fleetwood Mac), but it included two tracks from a March 1972 show when Walker was in Savoy Brown, so these recordings would be of interest to those who wish to investigate Walker's works as well.

However, by September 1991, Dave Walker had had enough of grueling Savoy Brown tours without much money to show for it at the end of the day, so he left Savoy Brown (and the music business, for the most part) again.

He had a band called The Pleasure Chorizos in his later New Mexico days but nothing came from it.

By the late 1990s Dave had relocated to Bozeman, Montana. It was there that he met up with an old friend from his San Francisco days, Ron Sanchez, who had (and still does have) an impressive Psychedelic Garage band called Donovan's Brain (which is another band with a "revolving door of personnel", in their case intentional, as they seem to favor the "open door" approach to jamming and making music with few barriers).

The music that Donovan's Brain were working on then had slightly hearkened back to Dave's Idle Race days, and he was interested in what they were doing, so he got involved with Donovan's Brain during this time. (With the "open door approach" they employ though, it is hard to say for certain if Dave Walker was/is actually a "member" of Donovan's Brain or not.)

In 1999/2000 he had worked with Donovan's Brain on a session for their Tiny Crustacean Light Show album (originally available on Get Hip Records but now available on Career Records), in which he appears on many tracks doing much of the backing vocals and some lead vocals.

He also played tambourine on a track by The Nomads (who were working in the same studio as Donovan's Brain on May 24, 1999) called "Top Alcohol", which was the "B-side" to their "The King of Night Train" single (on White Jazz Records).

Dave also sang on a rare Donovan's Brain track called "22 Lost Marbles" (which appeared on a CD called A Pot By Any Other Name, a free CD that accompanied issue number 30 (Spring 2001) of the independent music magazine Ptolemaic Terrascope), and a DB cover of a song called "The Single #2", which was originally done by the band called Man. This cover showed up on a various-artists Man tribute CD called "Man, We're Glad We Know You: A Tribute to the Man Band" (which was originally a privately pressed disc but is now available again through Career Records).

Many tracks with Walker that were left over from the TCLS sessions were released in January 2003 on the Donovan's Brain album, called The Great Leap Forward, on Career Records.

On that same label, an album by Angie Pepper was released in 2003 on which Dave recorded backing vocals on a track from it.