Lindsey Buckingham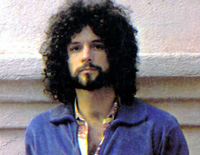 Lindsey Adams Buckingham (born October 3, 1949) is an American guitarist and singer with the musical group Fleetwood Mac. During his career he has also done some independent recording since he first became a member of that group. He is married to photographer Kristen Messner and has three children. As a member of Fleetwood Mac, he was inducted into The Rock and Roll Hall of Fame in 1998.

Born in Palo Alto, California, Buckingham was the third and youngest son of Rutheda (née Elliott) and Morris Buckingham. He had two older brothers, Jeff and Greg. Growing up in the Bay Area community of Atherton, California, Buckingham and his brothers were encouraged to swim competitively. Though Buckingham dropped out of athletics to pursue music, his brother Greg Buckingham went on to win a silver medal at the 1968 Olympics in Mexico City.

Buckingham's first forays into guitar playing took place on a toy Mickey Mouse guitar, playing along to his brother Jeff's extensive collection of 45s. Noticing his talent, Buckingham's parents bought their son a $35 Harmony guitar. His biggest influence is The Beach Boys.

Buckingham never took guitar lessons and does not read music. By age 13, he became interested in folk music and, influenced by banjo methods, practised the fingerpicking styles of The Kingston Trio. At 15 he joined a small folk group, providing vocals and guitar work.

Stevie Nicks while they both attended Menlo Atherton High School, and later formed The Fritz Rabyne Memorial Band with her and three other friends. Buckingham's fingerpicking style gave him difficulty playing rock guitar, and thus he moved to bass. After gaining popularity at Menlo-Atherton High School, "Fritz" became a popular local act and even opened for such acts as Santana, Jimi Hendrix and Janis Joplin.

After cutting some demos with Fritz for producer Keith Olsen, Buckingham and Nicks struck out on their own, and Fritz disbanded in 1971. Buckingham and Nicks became involved romantically, dropping out of San Jose State to pursue a career making music together. Buckingham was stricken with a case of "mono" (Infectious mononucleosis) and his illness forced Nicks to begin waiting tables and cleaning houses to support the couple, while allowing him the free time to master his guitar techniques.

Buckingham and Nicks recorded seven demos in 1972 on an analog 4-track. They drove to Los Angeles to pursue a record deal. In 1973, Polydor Records signed the pair. Their album, Buckingham Nicks, was released in September of 1973; soon after its release, Polydor dropped the duo due to poor sales.

Despite the record company misstep, Buckingham Nicks has been championed by rock critics since its release. It features gorgeous two-part harmonies backed by notable LA session musicians, including superstar drummer Jim Keltner. Other session musicians include: Ron Tutt, Drums (Elvis Presley TCB Band); Peggy Sandvig, Keyboards; Robert "Waddy" Wachtel, Guitar; Jorge Calderon, Percussion; Jerry Scheff (Elvis Presley TCB Band), Bass; Monty Stark, Synthesizer; Gary Hodges, Drums; and Mark Tulin, Bass. (from the album jacket)

Although money was tight, the hardworking duo caught the attention of many budding musicians, including Warren Zevon, who is rumored to have been a roommate of Nicks and Buckingham in a Fairfax district apartment.

A short tour promoting the Buckingham Nicks album commenced shortly after the joining of Buckingham and Nicks with Fleetwood Mac. Bootlegs of two concerts in Mobile and Tuscaloosa exist and are widely distributed on peer-to-peer networks and fansites. The touring band included drummers Bob Aguirre (from Fritz) and Gary Hodges playing simultaneously, bassist Tom Moncrieff (who later was featured playing bass on Stevie Nicks' album Belladonna), and, of course, Buckingham and Nicks.

To help make ends meet, Buckingham toured with Don Everly's back-up band, singing Phil Everly's parts. Buckingham and Nicks were eventually forced to move in with record producer Keith Olsen, who helped the pair work on several demos for the next Buckingham/Nicks album, including "I'm So Afraid", "Monday Morning", and "Rhiannon".

Buckingham Nicks has never been released on CD (although a bootleg version exists). Both Buckingham and Nicks have hinted at a possible remix and re-release on CD in the near future. Buckingham has also suggested a tour in support of the collection could be something the two may be interested in. Moncrieff and Hodges, from the original Buckingham Nicks touring band have also expressed interest.

While checking out the Sound City recording studio in California, Mick Fleetwood heard the song "Frozen Love" from the Buckingham Nicks album. He asked who the guitarist was, and immediately stated that he wanted him to fill a recent vacancy. Buckingham insisted to Fleetwood that he and Nicks were a package deal--if Fleetwood didn't want Nicks, he wouldn't get Buckingham. The duo was quickly asked to join Fleetwood Mac on New Year's Eve, 1974.

After the resounding commercial success of the group's second album, Rumours (during the making of which Buckingham and Nicks famously split), Buckingham was determined to avoid falling into repeating the same musical pattern. The result was Tusk, a two album set that Buckingham primarily directed. It was during this time that Buckingham moved in with record company secretary, and aspiring model, Carol Ann Harris, with whom he lived until 1984. Though by most standards a hit, Tusk failed to come anywhere close to what Rumours had done, and Buckingham, who also produced the albums, took the brunt of the criticism. Buckingham never fully got over his animosity towards the band for putting a commercial price tag on their art, and it finally came to a head with the release of their 1987 recording, Tango in the Night. Buckingham had already given up much of the material for what would have been his third solo album to the project, including "Big Love," "Tango in the Night," "Family Man," "You and I," and "Caroline." On several of these tracks Buckingham played every instrument. "Big Love" charted as a single, and many (including talk show host David Letterman) thought the "love grunts" on the track were sung by Stevie Nicks. But the vocals on these tracks were, in fact, all sung by Buckingham, who used studio technology to alter the pitch of his voice.

Just prior to touring for the release of the album, Buckingham left Fleetwood Mac as he had been exhausted by producing the Tango in the Night album and simply didn't have the appetite for a world tour. He was replaced by guitarists Rick Vito and Billy Burnette.

During the time he worked on Tusk, Buckingham also produced albums for Walter Egan and John Stewart in the late 1970s.

In 1981, Buckingham released his first solo album Law and Order, playing nearly every instrument and featuring guest appearances by bandmates Mick Fleetwood and Christine McVie. The album pursued the quirky, eclectic, often lo-fi and new-wave-influences of Tusk, and spawned the hit single "Trouble," a slice of Southern California Beach Boys-inspired pop that reached #9 on the US Charts and #1 in Australia (for three weeks). Two years later, he wrote and performed the songs "Holiday Road" and "Dancin' Across the U.S.A." for the film National Lampoon's Vacation. "Holiday Road" was released as a single, but reached only #82 on the Billboard's Hot 100. He did other soundtrack work, including the song "Time Bomb Town" from Back to the Future.

In 1984, after ending his 7-year relationship with Carol Ann Harris, he released his second solo album, Go Insane. The title track was a modest hit, reaching #23 on the Hot 100. The last track of the album, D.W. Suite, was a tribute to the late Beach Boys drummer Dennis Wilson. The next year, Buckingham performed on USA for Africa's fundraising single, "We Are the World".

Following his split with Fleetwood Mac, Buckingham spent much of the next four years in the studio, working on his third solo album, Out of the Cradle, which was released in 1992. Many of the songs seem to deal with the death of his father, and the sudden death of his brother Greg in 1990. "Wrong" was a gentle rebuke of former bandmate Mick Fleetwood's tell-all biography. Out of the Cradle received some favorable reviews but did not achieve the sales associated with Fleetwood Mac. However, Buckingham toured throughout 1992-93 for the first time as a solo artist; his band included an army of seven other guitarists (Buckingham himself calls them "the crazy band" on his Soundstage DVD), each of whom he individually taught the entire two-and-a-half hours of music from the concert (Lindsey Buckingham: Behind the Music documentary for VH-1, 2001).

A subsequent solo album, entitled Gift of Screws, was recorded between 1995-2001 and presented to Warner Bros./Reprise for release. Executives at the label managed to persuade Buckingham to hold the CD back and instead take several tracks from Gift of Screws and re-record them with Fleetwood Mac. Thus, seven songs from Gift of Screws ("Murrow Turning Over In His Grave," "Miranda," "Red Rover," "Come," "Steal Your Heart Away," "Bleed to Love Her," and "Say Goodbye") appear on the Fleetwood Mac album Say You Will, and in substantially the same form as Buckingham had recorded them for his solo release. Excellent bootleg copies of Gift of Screws -- taken from an original CD-R presented to Warner Bros/Reprise -- are known to exist and have been widely distributed among fans through the use of torrent sites and other peer to peer networks. Other songs from Gift of Screws appear on Buckingham's 2005 Soundstage DVD, and on his 2006 solo album, Under The Skin.

Buckingham contributed the song "Shut Us Down" (co-written with Cory Sipper) to the soundtrack of the Cameron Crowe movie, Elizabethtown. In November of 2005, he released his Soundstage performance (taped in 2003) on DVD, and on his 57th birthday, (October 3, 2006) an acoustic album entitled Under the Skin was released. Under The Skin features Buckingham on almost all instruments, with the exception of two tracks that feature Fleetwood Mac rhythm section John McVie and Mick Fleetwood. The album includes a cover of The Rolling Stones classic "I Am Waiting." Three days after the album's release, Buckingham started a tour promoting the album that lasted until the end of June 2007.

Buckingham plans to follow Under the Skin with another solo album in 2008. A CD/DVD combo of his Fort Worth concert in January 2007, titled Live at the Bass Performance Hall, was released on March 25 2008.

In 1992, newly-elected president Bill Clinton asked Fleetwood Mac to come together to perform the song he had chosen for his campaign, "Don't Stop", at his inaugural ceremony. Buckingham agreed to be part of the performance, but the experience was something of a one-off for the band, who were still very much at odds with one another and had no plans to reunite officially.

While assembling material for a yet-to-be-released fourth solo album in the mid 1990s, Buckingham contacted Mick Fleetwood for assistance on a song. Their collaboration lasted much longer than anticipated, and the two eventually decided to call upon John and Christine McVie. The band's old chemistry was clearly still there, and plans for a reunion tour were soon in the works. In 1997, Buckingham and all four of his bandmates from the original Rumours line-up of Fleetwood Mac went on the road for the first time together since 1982 in a reunion tour titled The Dance. The tour was hugely successful and did much to heal the damage that had been done between Buckingham and his bandmates. In 2003, the reformed band released the first studio album involving Buckingham and Nicks in 15 years, Say You Will. However, Christine McVie opted only to add some minor backing vocals and keyboards to the project, and the band carried on as a foursome. Buckingham's song "Peacekeeper" was the first single off of the album. This album was followed by a world tour that would last almost a year and a half.

Unlike many rock guitarists, Buckingham does not use a plectrum, or a pick. Instead, he uses his fingers and fingernails. He has developed his own style of playing, which can be heard on all of his albums. In 1979, he worked with Rick Turner, owner of Renaissance Guitars to create the Model One. He has used it extensively since, with Fleetwood Mac and his solo efforts.

On July 8, 1998, Buckingham's girlfriend, Kristen Messner, gave birth to their son, William Gregory Buckingham. Buckingham and Messner subsequently married in 2000, and she gave birth to a daughter, Leelee, the same year. Their third child, Stella, was born on April 20, 2004.