Mick Fleetwood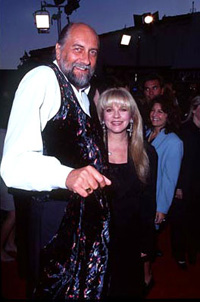 Michael John Kells "Mick" Fleetwood (b. 24 June 1947, Redruth, Cornwall, UK) is a British- born American musician best known for his role as the drummer with the blues/rock and roll band Fleetwood Mac. His name, combined with that of John McVie was the inspiration for the name of the originally Peter Green-led Fleetwood Mac.

Aside from his work as a drummer, he also helped form the different incarnations of his band Fleetwood Mac, and is the sole member to stay with the band through its ever-changing lineup. In 1974, he met and invited Lindsey Buckingham and Stevie Nicks to join Fleetwood Mac. Although Buckingham and Nicks deserve credit for contributing to much of Fleetwood Mac's later commercial success, Mick Fleetwood's determination to keep the band together was essential to Fleetwood Mac's longevity as a band and their lasting international success. He is known for his distinctive height; Fleetwood stands at 6'6".

He was born to Michael and Bridget Maureen (née Brereton) Fleetwood in 1947. His elder sister, the late Susan Fleetwood, was an actress. The early childhood years saw young Mick Fleetwood and his family follow his father, a Royal Air Force fighter pilot, initially to Egypt where the family stayed for about six years. Mick Fleetwood moved to Norway where his father was posted. He attended school there and acquired fluency in the Norwegian language. According to his autobiography, Fleetwood - My Life and Adventures with Fleetwood Mac, Fleetwood had an extremely difficult and trying time academically at the English boarding schools he attended, including Sherborne. He performed poorly on exams which he attributes to his persistent inability to commit facts to memory. He dropped out of school aged 15, and, in 1963, moved to London to pursue a career as a drummer.

Peter Bardens gave Fleetwood his first gig in Bardens' band The Cheynes, thus seeding the young drummer's musical career. It would take him from The Cheynes to stints in the Bo Street Runners, Peter Bs, Shotgun Express (with Rod Stewart), and John Mayall & The Bluesbreakers. After being dismissed from the Bluesbreakers for repeated inebriety during gigs Mick Fleetwood was asked a few months later by singer and guitar player Peter Green to join him along with bass player John McVie in his new band Fleetwood Mac. Since then more than fifty albums have been released under the name Fleetwood Mac - by far the most popular being the two mega-platinum sets the group put out in the late seventies: Fleetwood Mac and Rumours.

Mick also led a number of side projects. 1981's The Visitor featured heavy African stylistics and a rerecording of "Rattlesnake Shake" with Peter Green. In 1983 he formed Mick Fleetwood's Zoo and recorded I'm Not Me. The album featured a minor hit with "I Want You Back" and a cover version of the Beach Boys' "Angel Come Home". A later version of the group featured Bekka Bramlett on vocals and recorded 1991's Shaking the Cage. Fleetwood's most recent solo work to date is "Something Big", released in 2004.

Fleetwood also has a secondary career as a TV and film actor, usually in minor parts. His roles in this field have included a resistance leader in The Running Man and as a guest alien in the Star Trek: The Next Generation episode "Manhunt". Fleetwood co-hosted the 1989 BRIT Awards, which contained numerous gaffes and flubbed lines. In the wake of this public mishap, the Brit awards were routinely pre-recorded for the next 18 years, which was only in 2007, and the awards are now again broadcast live to the British public.

He is the author of Fleetwood - My Life and Adventures with Fleetwood Mac, his memoirs of his life, especially with Fleetwood Mac, published in 1990. Included in the book are his experiences with other musicians including Eric Clapton, members of The Rolling Stones, Led Zeppelin, and a romance with Stevie Nicks of Fleetwood Mac. Fleetwood also discusses his addiction to powdered cocaine and his personal bankruptcy after earning millions of dollars and pounds from his drumming career.

In 1979, Mick Fleetwood was diagnosed with diabetes, after having suffered recurring bouts of hypoglycemia during several live shows.