Stevie Nicks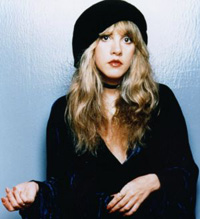 Stephanie Lynn "Stevie" Nicks (born May 26, 1948) is an American singer and songwriter, best known for her work with Fleetwood Mac and an extensive solo career, which collectively have produced over twenty Top 50 hits. Her ethereal visual style and heavily symbolic lyrics have brought her both acclaim and criticism.

Nicks was invited to join Fleetwood Mac in 1975 after Mick Fleetwood heard "Frozen Love," a song she wrote and recorded with then-boyfriend Lindsey Buckingham. (Initially Fleetwood only intended to hire Lindsey Buckingham; however Buckingham told him, "We come as a package deal.") With the success of Fleetwood Mac's Rumours album in 1977, Fleetwood Mac regained international fame. Nicks began her solo career in 1981 with Bella Donna, and has produced five more solo studio albums to date.

Nicks has been nominated for seven Grammy Awards, and with Fleetwood Mac won the 1977 Grammy for Album of the Year for Rumours. As a member of Fleetwood Mac, she was inducted into The Rock and Roll Hall of Fame in 1998.

Nicks was born at Good Samaritan Hospital in Phoenix, Arizona to Jess and Barbara Nicks. As a young child, she had difficulty pronouncing her given name Stephanie, and as a result, began calling herself "Stevie". The nickname stuck.

Her mother fostered in her a love for fairy tales, while her grandfather, a struggling country singer, began teaching her to sing at the age of four. Stevie has a brother named Christopher who was married to Lori Perry, one of Stevie's backup singers and ex-wife of producer Gordon Perry.

With her first guitar Goya, at age sixteen, she wrote her first song called "I've Loved and I've Lost, and I'm Sad But Not Blue". She soon joined her first band 'The Changing Times' (named after a Bob Dylan song) while attending Arcadia High School in California.

Nicks first met her future musical and romantic partner Lindsey Buckingham during her senior year at Menlo Atherton High School. She and Buckingham attended a religious meeting called Young Life, where together they sang California Dreamin'. Buckingham remembered Nicks' enchantingly unique voice. A few years later, he contacted Nicks and asked her to join a band (with Javier Pacheco and Calvin Roper) called Fritz, which became popular as a live act from 1968 until 1972. Fritz opened for big-name acts Jimi Hendrix and Janis Joplin, among others in the San Francisco Bay Area. Both Nicks and Buckingham attended San Jose State University in Northern California, where Nicks majored in Speech Communication.

After Fritz disbanded in 1972, Nicks and Buckingham continued to write and record as a duo, producing demo tapes at Buckingham's father's Morris' Coffee Plant. By this time, the two had become romantically involved as well. They secured a deal with Polydor Records, which was attracted by their melodic, California pop harmonies, and photogenic quality.

After selecting songs from the demo tapes, Polydor released the album Buckingham Nicks in 1973. Nicks and Buckingham composed original material for the album, which included the epic "Frozen Love," one of the few songs that the two have written together. The album displayed Buckingham's distinctive guitar work on both electric and acoustic models (showcasing his now trademark finger-picking style), as well as the pair's melodically engaging vocals. Buckingham's songs veered towards blues-rock ("Don't Let Me Down Again"), funk ("Lola (My Love)"), and instrumental folk ("Stephanie," "Django"), while Nicks' material was more pop-inspired ("Crying in the Night") and romantic ("Crystal"). The cover portrait shows Nicks and Buckingham in a topless pose.

The album was not a commercial success, even though the duo played shows to support it. Polydor subsequently dropped them from the recording label. To keep the pair financially afloat, Nicks worked a variety of jobs, which included waiting tables and a stint cleaning engineer/producer Keith Olsen's house while Buckingham, who was recovering from mono, lived there, writing music and practicing guitar.

Nicks and Buckingham briefly relocated to Aspen, Colorado. While there, Buckingham landed a guitar-playing gig with the Everly Brothers. Buckingham decided to tour with them, while Nicks stayed behind. During this time, Nicks wrote "Rhiannon" and "Landslide". In late 1974, a new opportunity arose.

Buckingham Nicks caught the attention of drummer Mick Fleetwood of Fleetwood Mac. He heard the album playing while visiting a recording studio, Sound City, in Sausalito, California. The band was looking for a new guitar player, following the departure of Bob Welch who left to pursue a solo career, leaving Fleetwood Mac as a trio with only one songwriter, keyboardist/vocalist Christine McVie. Initially, Fleetwood was interested only in Buckingham, but Buckingham stated that he would only join if Nicks was also invited into the group, stating firmly that he and Nicks were a "package deal". The band members agreed, and Fleetwood asked the duo to join Fleetwood Mac on December 31, 1974. In 1975, the new band released their self titled album Fleetwood Mac which went to the number one spot and spawned top twenty songs in 1976. Nicks' "Rhiannon" reached #11 and became the song that would shape her image as a Welsh Witch and a sultry rock and roll princess. Almost as enduring as "Rhiannon," the introspective "Landslide" became a popular radio item as well as a Nicks milestone.

Fleetwood Mac's second album with their new lineup, Rumours, began recording in early 1976 and continued until late in the year. Sessions were dogged by faulty drum tracks, disintegrating tapes, and the tension between the band members, which influenced the songwriting. Nicks' contributions were the jaunty, tight harmony "I Don't Want to Know" (intended for a second Buckingham Nicks album in 1974); the dark, mystical "Gold Dust Woman," a diatribe about the dangers of cocaine and the rock and roll lifestyle; the dramatic "Silver Springs," a b-side about her relationship with Buckingham; and the atmospheric "Dreams," which became the band's only Billboard Hot 100 #1 hit single. Other songs written for the album, but released later, included "Think About It" (recorded for Bella Donna) and "Planets of the Universe" (recorded for Trouble in Shangri-La) Both these tracks were reissued on the expanded and remastered edition of Rumours in 2004.

Rumours was finally released to widespread acclaim in February 1977. It became one of the best-selling albums of all time, selling more than 19 million copies in the U.S., and spending 31 weeks atop the Billboard 200 album chart and replaced by Linda Ronstadt's Simple Dreams. The ensuing tour was another great success for the band, during which time they all began relationships outside the group.

During this period, Nicks had a relationship with singer/songwriter Don Henley of The Eagles and Fleetwood Mac concert promoter David Pesnell which would influence her next batch of songs.

Nicks also had breast augmentation surgery during this period, feeling her physical appearance inadequate given the media attention she was suddenly receiving. The silicone implants were, however, to give her problems later in life. Plagued by chronic fatigue and persistent malaise, Nicks believed the implants to have broken, blaming them for her declining health and consulted numerous physicians in order to prove her theory. After several test results proved negative, against medical advice Nicks had the implants surgically removed. It subsequently transpired that the implants had indeed been broken.

Due to her belief that she suffered from high levels of silicone left in her bloodstream by the implants, Nicks spent the next year in and out of hospital, as well as making several visits to acupuncturists and undergoing numerous sessions with "cleansing" IV drips to "remove" the toxic silicone from her blood. Reflecting in 2004 Nicks remarked "It was truly awful...I'd advise against having them."

After a successful album and tour in 1977-78, Fleetwood Mac settled down to record their third album with the "classic line-up" in the spring of 1978. Helmed largely by Lindsey Buckingham, Tusk ventured into more experimental territory, incorporating odd percussion and arrangements (mostly applied to Buckingham's songs). The band's unorthodox work ethic, and copious amounts of cocaine, led to the album costing approximately $1 million, the most expensive album ever made at the time. The high levels of Nicks's cocaine abuse at this time led to one of the more enduring rumours of her career when it was alleged that she favoured administering the drug anally with the assistance of a roadie employed for this purpose.

In 1978, Nicks sang back-up on Walter Egan's "Magnet & Steel" from Egan's 1978 album Not Shy. The album was produced by Lindsey Buckingham and Richard Dashut.

After a difficult thirteen months of recording and editing, Tusk was released as an 18-track double album in October 19, 1979. The increased price, unusual nature of the songs, and the fact that it was aired on US radio prior to release, contributed to relatively disappointing sales of four million copies.

Nicks' contributions to the album mainly focused on her romantic relationships with Pesnell and Henley during this period. The somber "Storms" and piano ballad "Beautiful Child" were speculated to be about her doomed relationship with Mick Fleetwood, while the Billboard Hot 100 #7 hit "Sara" alluded to her relationships with Fleetwood and Pesnell.

Nicks hinted at the sound of her future solo projects on the rock-inspired "Angel" and the dark "Sisters of the Moon,"(which reached a disappointing #86 on the Billboard Hot 100) about her hectic touring schedule being handled by Pesnell at the time. Nicks also attempted to record another up-tempo rock number, "The Dealer," for Tusk, but it was shelved.

Around this time Nicks had her first 'solo' hit, with a duet with Kenny Loggins on "Whenever I Call You Friend." Another top-five 'solo' hit Nicks had around this time was, in the form of a duet with John Stewart, the country-tinged "Gold." During 1979, while work for Tusk was still ongoing, Nicks began laying down early demos for a solo album. During the exhaustive year-long world tour for the album, in 1979–80, she continued to write and gather material for a new project outside Fleetwood Mac. She ended her relationship with Henley at the beginning of the tour, but her relationship continued with Pesnell until it was ended at the end of the concert tour.

By 1978, Nicks became concerned with an increasing backlog of songs, dating back to her Buckingham/Nicks days that she was unable to record and release with Fleetwood Mac, due to the constraint of having three songwriters. With Danny Goldberg and Paul Fishkin, Nicks founded Modern Records, a vehicle to record and release her own material. During the making and touring of the Tusk album, Nicks began working on demos for a planned solo record.

The earliest band sessions for the album came in April 1980 with Tom Petty and the Heartbreakers and Tom Moncrieff, tracking songs including an early version of "Gypsy." Further work commenced once the Tusk tour ended in late 1980, with sessions lasting from then until the spring of the following year, helmed by Jimmy Iovine and featuring various contributions from Petty and his band. During 1981 Nicks toured with Tom Petty and the Heartbreakers and New Zealand band Split Enz as a guest.

During 1981, the individual members of Fleetwood Mac continued their careers with solo projects (see below), but at the end of the year they reconvened to record a follow-up to Tusk in France. The album took on a more melodic, commercial sound akin to Rumours, but the band's performances were notably less passionate, and the song quality was arguably not as high. Buckingham's material was more 1950s rock 'n roll-inspired, while Christine McVie turned to piano ballads. Nicks offered "Gypsy," one of the album's hit singles, which was originally tested for her solo album Bella Donna, as well as the country-inspired "That's Alright," written during the Buckingham Nicks days a decade earlier, and the dark, newly-written "Straight Back." The second single from "Mirage", "Gypsy" reached #12 and was the subject of a dramatic award winning video featuring Nicks as a Depression era waif.

Playing up to the media image of Fleetwood Mac as two sparring, romantically entangled couples, Mirage was released in June 1982 with a cover photo featuring Nicks in the arms of her former partner, Lindsey Buckingham. The album quickly went double platinum and spent a considerable amount of time on the album charts, producing several hit singles. The short Mirage tour took place between September and October 1982, and included Nicks' performance of "Sisters of the Moon", her 1979 Tusk album track and concert encore. This performance has been designated the "speaking in tongues version" by some fans as Nicks, entranced in the performance, seems to speak in tongues at the song's climax. The video of this performance is highly collectible.

Other Nicks' songs considered for the album but unreleased include another version of "If You Were My Love," also tried for Bella Donna, and "Smile At You," originally planned for Tusk and finally issued more than two decades later on Fleetwood Mac's "Say You Will" album. After the tour, Nicks settled down to record her second solo album.

In 1986, Fleetwood Mac began work on Tango in the Night. The album marked a return to a more commercial pop sound, and was propelled by a string of hit singles.

Released in April 1987, the album Tango in the Night included Nicks' performance of "Seven Wonders" (Billboard #19); however, creative differences and unresolved personal issues within the band (between Nicks and Buckingham, in particular) led Buckingham to quit the group right before their Tango in the Night world tour. Buckingham has never attributed that decision directly to his volatile relationship with Nicks, but it is often speculated to be the reason. In the Fleetwood Mac segment of British TV program Rock Family Trees (broadcast in 1995), John McVie described the confrontation between Nicks and Buckingham at Christine McVie's house in August 1987 as "physically ugly". Nicks admitted that Buckingham almost killed her, after she violently rejected Buckingham's decision to leave the band. After Buckingham chased her through the house and out onto the street and, according to Mick Fleetwood in his disputed autobiography, threw her against a car and strangled her, Nicks warned him that if he killed her and none of the other band members came to get him, her brother Christopher and father Jess would murder him. This interview was held at a time when many of the members of Fleetwood Mac were not speaking; Stevie and Mick had disputed over the use of the song "Silver Springs" (recorded in 1976) for her solo retrospective album in 1991, while Fleetwood intended to premier it on the Fleetwood Mac box set The Chain: 25 Years in 1992, as well as items considered scandalously exaggerated in his autobiography. Therefore, claims over what really happened before Buckingham left in 1987 are unclear, and have often been misinterpreted and discounted.

Though set back by Buckingham's departure, Fleetwood Mac eventually toured anyway, replacing Buckingham with Rick Vito and Billy Burnette for the Shake The Cage Tour, from September to December 1987. The set-list included "Stand Back"; this would later be performed on every Fleetwood Mac tour in which Nicks participated. However, the set-list had some major omissions mid-tour (especially "Rhiannon" and "Gypsy"), several shows had to be delayed or canceled and the tour was cut short (particularly, dates in Australia were canceled and European dates were pushed forward to May 1988) due to Nicks' bout with Chronic Fatigue Syndrome (in addition to her dependence on tranquilizers). A concert performed at the Cow Palace in San Francisco was taped and later released.

Tango in the Night had returned Fleetwood Mac to huge critical and commercial success on the tenth anniversary of Rumours. The surge in popularity led to the release of their Greatest Hits album in November 1988. The new line-up recorded two new songs for the release, Christine McVie's "As Long As You Follow" and Nicks' "No Questions Asked". The album, which became a major chart fixture, has sold more than eight million copies to date in the US alone.

In 1990, Nicks set to work with Fleetwood Mac on a new album. This was the first studio album with the new line-up featuring Vito and Burnette (though this line-up had already recorded two new songs that were featured on the 1988 Greatest Hits album).

Nicks' contributions included the co-writes "Love is Dangerous," "Freedom," and "The Second Time," as well as her self-penned, melodic "Affairs of the Heart." The album, entitled Behind the Mask, was released to mixed reviews April 10, 1990 and marked the end of the "classic era" line-up and the beginning of a second "wilderness" period for Fleetwood Mac.

The album was certified gold and still hit the Top 20 on the Billboard 200, but it was nowhere near the level of success of previous Fleetwood Mac albums, and it is one of the band's least commercially- and critically-successful albums. After the Behind the Mask tour (on the last night, Buckingham and Nicks reunited to perform "Landslide"), Nicks left the group to concentrate on her solo career, and Christine McVie retired from touring.

During the 1992 U.S. presidential campaign, Bill Clinton used the Fleetwood Mac hit "Don't Stop" (written by Christine McVie) as his campaign theme song. The Rumours-era line-up of Fleetwood Mac reunited to perform the song at his 1993 Inaugural Gala, sowing the seeds for a later reunion album and tour.

Fleetwood Mac also released a four-disc box set, The Chain, in November 1992 featuring songs spanning the band's entire career, although focusing much more on the 1975-87 era. The compilation, later also issued as a slimmer two-disc volume,and featured album tracks, b-sides, alternate mixes, and previously unreleased tracks like "Heart of Stone", "Love Shines", "Make Me a Mask", and "Paper Doll" (which Nicks co-wrote).